Developed specifically for New Zealand Not for Profits, Local Government and Community Organisations looking to raise funds $50,000 or more

Funding HQ is a purpose-built online capability building platform, developed to educate, support and provide structure to NFPs, local government and community organisations needing to secure funding. Funding HQ provides tools and efficiencies to ensure your fundraising journey is productive and fun.
Our training and support programme has 5 key elements, which include:
An online training and education programme, consisting of 12 key modules.
One-on-one support coaching by an experienced fundraising coach tailored to your specific needs.
Access to our custom-built NZ Funding Database, listing over 1,000 individual funds and 200+ funders. It's New Zealand's most comprehensive database of funds.
Access to our monthly members only Q&A session, held online by Zoom, 2nd Tuesday of each month.
Plus, additional fundraising coaching sessions, as a support, mentor and motivator, as and when required.
Hear from the founder, Jenni Giblin
on why she created Funding HQ
Helping you to improve your funding success
Our 12 key online training modules have been designed and structured to support you through the full fundraising journey. From an initial internal analysis through to approaching and securing funds.
Our programme has been tailored specifically to support New Zealand's NFPs, local government and community organisations.
Designed and custom-built by one of New Zealand's most experienced fundraising experts.
A fully tailored programme with one-on-one support throughout the process.
Funding HQ provides guidance and expertise throughout the fundraising process, including preparation, planning and implementation.
Individual coaching and one-on-one support
We know the success of the programme isn't just about our learning modules, but integral to its performance is our individual one-on-one coaching and support.
Throughout the 12 course modules, there are a number of learning and workshop tasks, plus support coaching when needed.
With Funding HQ, we provide regular monthly check-ins throughout the online learning process.
Additional one-on-one coaching and support sessions can be purchased, as and when required.
Funding HQ helps you improve the likelihood of getting funding support. Plus, improving 'time efficiencies', and team productivity for fundraising related work.
Membership programme for ongoing fundraising support
Our Funding HQ programme has been designed so that you progress through our online learning platform in a structured and logical way. We estimate that our course material is likely to take individuals approx. 55 hours to complete.
In addition to our course material, by renewing your Membership, you have full access to our training material, with ongoing access to our NZ Funding Database.
Plus, ongoing tailored monthly support from our experienced fundraising coaches.
Our monthly members' Q&A zoom provides additional support. Plus, it gives you the opportunity to build relationships with other fundraising individuals, helping you feel part of a community.
Register now to find out how Funding HQ can help your organisation raise funds.
Affordable Training Programme and Tailored Coaching Service
At Funding HQ we offer a fully NZ developed online training programme plus a tailored coaching service.
Designed and developed by a local NZ fundraising specialist, for NFPs, local government and community organisations.
We offer three different Membership Packages: Starter, Pro and Elite at affordable prices. Memberships can be upgraded or downgraded so that it's easy to move between tiers allowing flexibility to suit your needs. Additional coaching sessions can also be added in at any time to suit your fundraising requirements. View our Membership Packages.
In addition to our standard packages we offer:
Fundraising Consultation: Development of bespoke fundraising strategies, implementation assistance and governance support is available. POA.
Fundraising Workshops: Tailored workshops for Local Government, the NFP sector, and community groups needing succinct fundraising support and to build fundraising capability this includes governance development. POA.
A few of the amazing organisations Funding HQ works with




















New Zealand's most comprehensive database of funds.
The team at Funding HQ have curated a database of funds in New Zealand that you can sort by Region, Sector, Date, Fund Amount and more.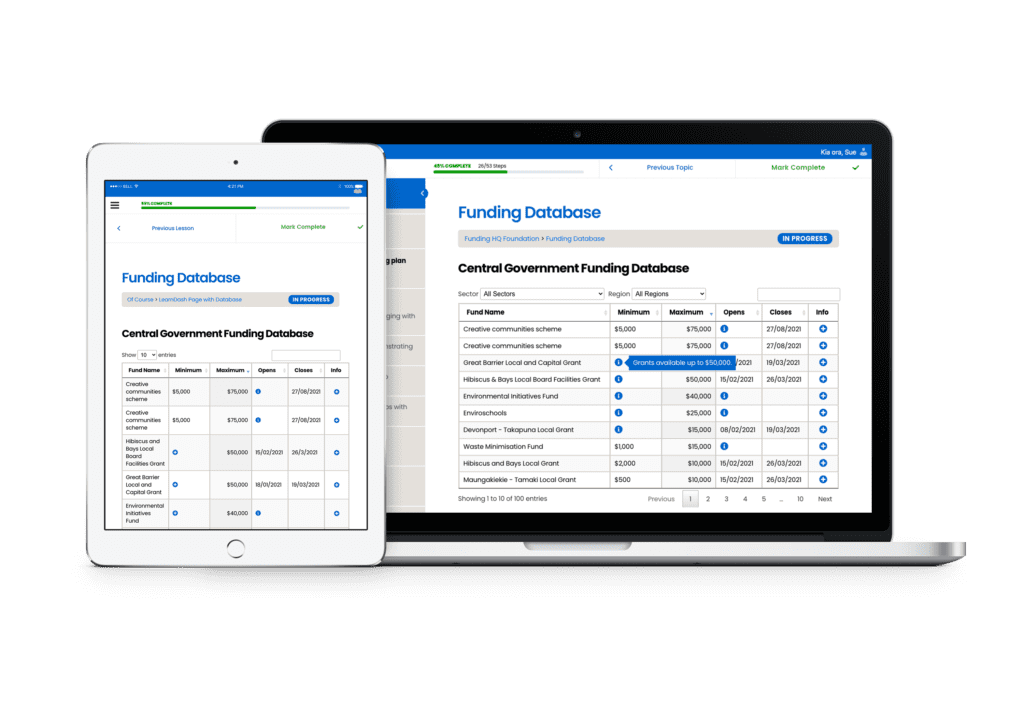 Are you responsible for fundraising for your organisation?
Enter your name and email address to receive up-to-date information on funding opportunities.
Recent articles about fundraising in New Zealand